The Washington, DC Section of SME is very committed to the professional development of its members and the future leaders of the mining industry. The members of the Section engage in various activities throughout the year.

SME 2014 Field Trip
On Saturday, October 25, 2014, members of the Washington, DC Section visited the Douglas Point Nature Preserve/Park in Charles County, MD for fossil collecting from 1:30-3:30.

SME 2008 Field Trip
On May 22, 2008, members of the Washington, DC Section visited the Vulcan Materials Graham Quarry in Occoquan, VA, and the Luck Stone Bull Run Quarry in Manassas, VA. Both quarries are major suppliers of aggregates to the Washington Metro Area market. The geology of the two quarries is quite different. Granite is mined at the Graham Quarry. "Blue stone" is the product at the Bull Run Quarry. In the quarry walls at Bull Run, a major intrusion of diabase can be clearly seen pushing through the surrounding hornfels. The quarries are excellent examples of responsible mining operations in the suburban environment. Both are in close proximity to housing subdivisions, major commuter routes, and, in the case of Bull Run, the Manassas National Battlefield Park. Click Here To See Photos Of Our Trip

November 2-4, 2006 National Science Teachers Assn. (NSTA), Regional Convention at the Baltimore Convention Center.
Mining Professionals the Washington, DC, SME Section volunteered to staff the SME Minerals Education Coalition Booth to distribute educational materials and over 20,000 rock and mineral specimens to thousands of teachers. The teachers were very appreciative of receiving the materials, and the section values the opportunity to present the mining industry in such a positive light.
A total of seventeen coal, rock, and mineral samples were donated by Fairfax Mining Corp., Luck Stone Corp, Florida Rock Industries/Arundel Corp., Maryland Aggregates Assoc./Lafarge North America, York Building Materials, Phelps Dodge Corp., The Doe Run Co., Hecla Mining Co., Alabama SME Section, Franklin Minerals Corp., Zemex, and Cleveland-Cliffs Iron Co.

NSTA Eastern Region Convention 2004
Mining professionals from the SME Washington, D.C. Section and others from the Richmond, Virginia areas staffed the SME Minerals Education Coalition Booth at the eastern regional National Science Teachers Association Convention (NSTA) Convention in Richmond, Virginia last week Over 25 volunteers were on hand from December 2-4 to distribute free mineral kits, educational materials, and industry literature to nearly 1,700 teachers Mineral producers and mining professional recognize this event an excellent forum to present the mining industry in a positive light, and the teachers are extremely appreciative of the valuable teaching materials being offered to them. A total of thirteen mineral samples were donated by Brett Aggregates, Cleveland Cliffs Inc., The Doe Run Co., Foundation Coal Co., Luck Stone Corp., Newmont Mining Corp., North Carolina State University, Phelps Dodge Corp., R.T. Vanderbilt Co., U.S. Silica and U.S. Steel Corp. Major Booth sponsors were the American Coal Foundation (ACF), Caterpillar Inc., E. Dillon & Co., Freeport McMoRan Inc., Joy Global Mining, Luck Stone Corp., National Mining Association (NMA), National Stone (NSSGA), Sand & Gravel Association, Phelps Dodge Corp., Rockydale Quarries, and the Society for Mining Metallurgy & Exploration (SME) National and Washington, D.C. Chapters. Additional educational materials were provided by A Capital Resource, Energy Information Administration (EIA), Interstate Mining Compact Commission (IMCC), Minerals Information Institute (MII), Sheppard & Associates, U.S. Forest Service (USFS), U.S. Geological Survey (USGS), and the Washington, D.C. Chapter of Women in Mining (WIM).
Student Day
This biennial program is sponsored by the Washington, DC Section of SME and brings to Washington junior and senior mining engineering, geology and mineral economic students from colleges and universities in MD, PA, VA and WV. The program introduces students to the major government minerals organizations in the Executive and Legislative branches, the trade associations and interest groups, the roles of these organizations and the current minerals issues, including environmental concerns.
It was a tour of the Glen-Gery Brick's Capitol Plant in Manassas, VA., on Friday, May 12.
The 2006 annual spring field trip was held at Glen-Gery Brick's Capitol Plant located in Manassas, VA, about 35 miles west of Washington, DC. Glen-Gery manufactures extruded, machine-molded, and handmade bricks in standard and custom shapes, textured and non-textured. Founded in 1890, the company is the largest molded brick and fifth largest brick manufacture in the United States, with 10 manufacturing plants in the east and Midwest having a capacity to produce 700 million bricks per year. The Capitol Plant has been in operation since 1959, and now produces about 43 million bricks per year with a workforce of 60 (including administrative and sales positions). About 60% to 70% of the bricks manufactured from surface clays and shales at the Capitol Plant are consumed locally; the remainder is mainly shipped to locations further north. Most of the brick is trucked out (90% to 95%), with the remaining amount transported via rail. The brick manufacturing process involves five main stepsraw material preparation, the making process, setting and drying, firing, and packaging. The bricks that were made on the day of the tour were extruded and sand-blasted then coated with nepheline syenite for texture. For more details about the brick manufacturing process, visit Glen-Gery's website at www.glengerybrick.com.

These are photos from the April 8-9, 2005 SME/WIM tour of U.S. Silica in Berkeley Springs, WV and the Alliance Resource Partner's Mettiki coal mine in Oakland, Maryland.
Mettiki's fish hatchery at the mine facility.
The photos are of the US Silica mine.

Friday April 30, 2004, SME/WIM Tour of Old Hickory Mine - Click to enlarge.
Dinwiddie County, Virginia

Photos of April 11-12, 2003 mine tour the DC Section took to Kyanite Mining Corporation's kyanite mine and mill near Dillwyn, Virginia.

Photos of Saturday, April 6, 2002, Choate Mine Tour - Click to enlarge.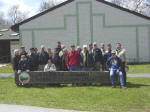 The SME DC Section arranged for a private tour of the Choate Mine area near Baltimore, MD in the Soldier's Delight Environmental Area which was the world's primary source of chromite in the early 19th Century. Our tour guide was Johnny Johnsson of Arundel Corporation.

As a means of promoting Earth sciences, members of the Washington, DC Section of SME volunteer as judges at science fairs held throughout the greater Washington, DC metropolitan area. Students from both public and private schools participate in six regional fairs beginning in March and running through April each year. Science fairs develop students' interest in Earth sciences and related academic disciplines. Local professional societies, industry organizations and government agencies provide volunteers to serve as judges and donate prizes.
For more information, please contact the Section's current Chairman (see Officers–DC Section for contact info).

Herbert C. Hoover Award
The Washington, DC Section annually grants the Herbert C. Hoover Award to a member in recognition of his or her professional contributions and active support of the Section. The Hoover Award is traditionally given out at the Section's May luncheon.

The Washington, DC Section of Society of Mining, Metallurgy, and Exploration, Inc. (SME) Washington, D.C. Section, accepts nominations of individuals for the Herbert C. Hoover Award in the early spring of each year. The award is generally given to the local member who has provided outstanding service in recent years. Nominations may be e-mailed or telephoned to the Section's current Chairman (see Officers–DC Section for contact info). Please be prepared to make mention of your nominees service to the local SME section. Closing of nominations generally occurs soon after the April monthly meeting. The member receiving the award attends the May monthly meeting to accept the honor at our SME Luncheon.

SME WASHINGTON D.C. SECTION
HERBERT C. HOOVER AWARD RECIPIENTS1
1974 Harold Kirkemo
1975 E.D. Gardner
1976 Charles E. Golson
1977 Kung-Lee Wang
1978 John D. Morgan, Jr.
1979 David W. Pinkard
1980 Philip W. Guild
1981 No award given
1982 Gary A. Kingston
1983 Kenneth B. Higbee
1984 Sheldon P. Wimpfen
1985 Gus H. Goudarzi
1986 George Watson
1987 J. Allen Overton, Jr.
1988 Donald A. Brobst
1989 Paul F. Yopes
1990 Keith R. Knoblock
1991 John B. Rigg
1992 Robert W. Ageton
1993 Ralph C. Kirby
1994 Janice L.W. Jolly
1995 L. Michael Kaas
1996 John H. DeYoung, Jr.
1997 John A. Patterson
1998 V. Anthony Cammarota
1999 Phyllis A. Lyday
2000 Alma Hale Paty
2001 Franklin B.W. Woodbury
2002 Aldo F. Barsotti
2003 George J. Coakley
2004 Michael N. Greeley
2005 Lisa A. Corathers
2006 J. Michael Canty
2007 W. David Menzie
2008 John D. Jorgenson
2009 Leslie L. Coleman
2010 James H. Jolly
2011 Karl S. Tsuji
2012 John M. Lucas
2013 George Kenneth Schuler
2014 Steven J. Stokowski
2015 John Padan
2016 E. Lee Bray
2017 Madan M. Singh
2018 James B. Hedrick
1 Engineer of the Year Award prior to 1984

GEM Outreach Activities
The Government, Education and Mining (GEM) Program was established in 1975 to raise public understanding and appreciation for the important role that the minerals industry plays in improving the quality of life for people around the world. GEM programs provide speakers bureaus, field tours, classroom presentations by professional geologists and engineers, and minerals education exhibits at teacher conventions and much more.
The Washington, DC Section of SME was selected for the 2005 GEM Section Award. The award was established to recognize outstanding contributions to the SME GEM Program.

The award also was awarded to the Section in 2000.